Meet "Well Weathered" Author Paul Gioffi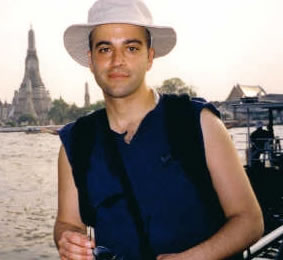 The Author in Bangkok, Thailand
To contact Paul with questions or comments:
well_weathered@yahoo.com
Paul W. Gioffi

 is originally from New York State, where he attended undergraduate and graduate level universities. He holds a Bachelor of Arts Degree in Social Studies with a minor in Anthropology and a Master of Science Degree in Education. Paul began his full-time teaching career in New York. After a few years, however, he moved overseas to begin teaching in international schools and experience life outside his homeland. He has lived in seven different countries and has traveled in over twenty. Travels have taken him from the labyrinth-like, inner city streets of some of the world's busiest and congested cities to some of the thickest woodlands and forlorn desert regions of the planet. While he doesn't claim to be an expert on travel, he states, "my experiences have taught me much over the years regarding tolerance, patience, cultural sensitivity, teamwork, humor, negotiation, self- reliance and some useful tactics for life and survival in distant, unfamiliar lands". "Along the way, my interest in reading and writing has grown tremendously, allowing me to reflect on my many adventures, both in the United States and overseas. Writing things down and sharing experiences with other educators is as rewarding as the travel experiences themselves". "All of these attributes and practices have been extremely helpful to me as a teacher, and as a human being". They can also be helpful to educators around the world, and to anyone who spends a little time on the road". At present, Paul is in the United States researching, writing and attending various professional development classes.